Double Cone Chemical Mixer
JHW Double Shafts Paddle Mixer Series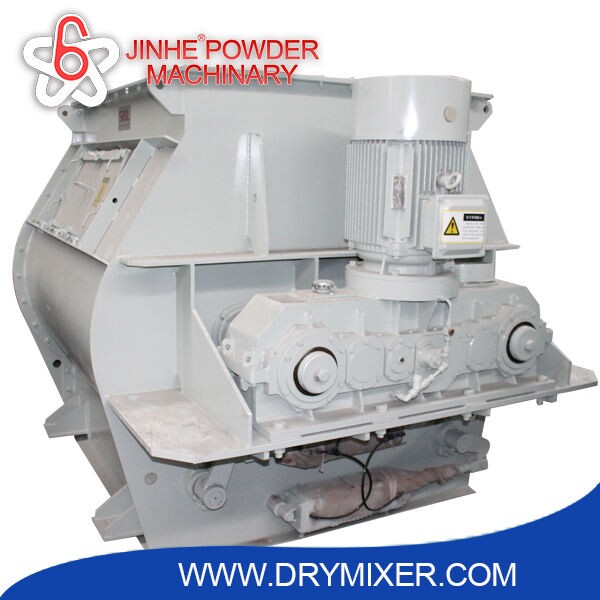 Mixed volume of material:
Mixer power:
FOREWORD
The advantages of the mixer:

The advantage of this mixer is wide application, high mixing precision, short mixing time.

JHW series is a high precision mixing equipment, wide adaptive to all kinds of mixtures,it also can mix the mixtures evenly which have big differences in proportion, matching, particle diameter.For mixtures that ratio difference reaches to 1:1000~10000,it also can mix well.There is a crushing plant equipped in the machine,so it can partial crush the particle materials.


The design for full opening discharging ensures little residua and good sealing as well as short discharging time.
Production Introduction
Mixer Parameters:
Model
Total Volume (M³)
Batch Capacity
(kg)
Power (KW)
Dimension (L×W×H) mm
Weight (Kg)
JHW50
0.05
20~30
1.5
1390×655×1184
270
JHW260
0.26
80~90
4
1340×1210×933
300
JHW300
0.3
120~180
4
1475×1375×1240
490
JHW500
0.5
200~300
7.5
1715×1610×1360
870
JHW1000
1
400~600
11
1940×1870×1610
1200
JHW1500
1.5
600~900
15
2190×2020×1780
1600
JHW2000
2
800~1200
18.5
2280×2270×1940
2950
JHW3000
3
1200~1800
22
2410×2490×2070
4350
JHW4000
4
1600~2400
22
2750×2750×2360
4650
JHW5000
5
2000~3000
37
3020×3070×2580
6300
JHW6000
6
2400~3600
45
3140×3110×2710
7250
JHW10000
10
4000~6000
55
3620×3640×3110
8400
JHW15000
15
6000~9000
55
5010×3780×3260
10000
JHW20000
20
8000~12000
75
5370×4140×3410
13000

Equipment and Constitution Picture