The equipment with small volume,comprehensive function,high efficiency,low noise which is the ideal device of obtaining micro-particle research samples used for research and development institute,collages and universities,entire laboratory.
The samples could be ground under vacuum state with using the vacuum ball mill jars.
It is widely used in geology,mineral,metallurgy,electronic,building material,ceramic,
chemical,light industry,medicine,beauty,environment production,tea and so on.
According to the processing requirement to set the rotation speed and alternate time of forward and reversal rotation and set the total grinding time.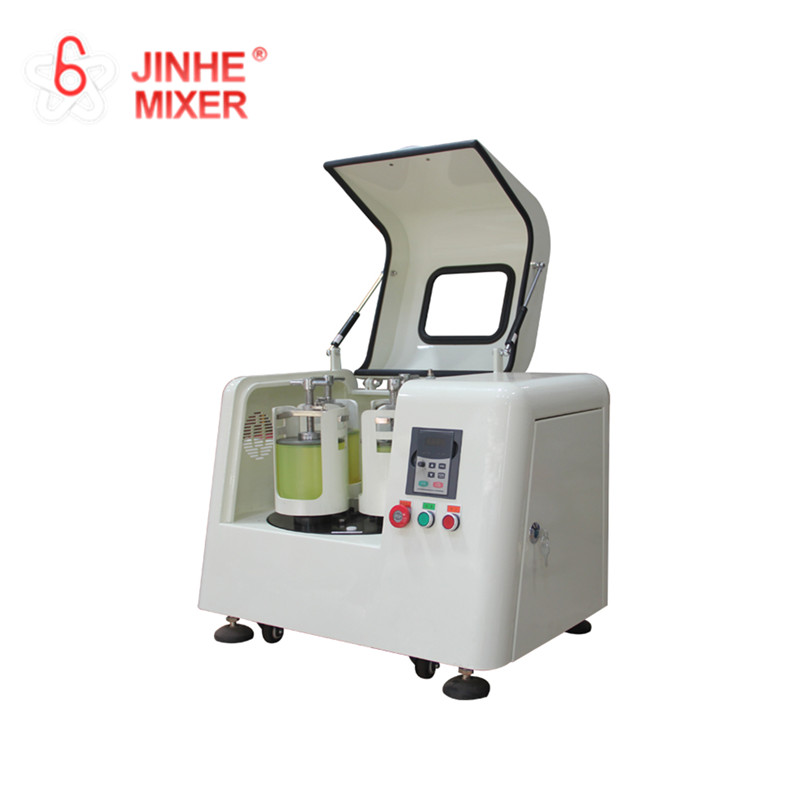 *Working principle:
Oil seal mute planetary Ball Mill has four ball grinding tanks installed on one turntable.When the turntable rotates, the tank axis makes planetary movements,The balls and samples inside the jars are impacted strongly in high speed movement, and samples are eventually ground into powder. The ball mill can use for dry and wet grinding and also can mix products of different granularity and materials.
Working mode: Two or four ball milling jars working at the same time and the maximum sample loading amount: Volume of ball milling jar 2/3, feeding granularity:soil material ≤ 10mm other material ≤ 3mm discharge granularity: the minimum can up to 0.1um (i.e. 1.0 *10mm-4)
*Technical parameter:

Model
Power
Voltage
frequency
conversion
Ball mill
Jar
Vacuum
Jar
Rotation Speed r/min
Noise
KW
power KW
Revolution
Rotation
≤db(A)
adjustable
adjustable
JHMB0.4L
220V
50HZ
0.55
0.4
100ml
no
30-450
60-900
≤60db
JHMB-1L
220V
50HZ
0.75
0.55
250ml
100ml
30-450
60-900
≤60db
JHMB-2L
220V
50HZ
1.1
0.75
500ml
250ml
30-400
60-800
≤60db
JHMB-4L
220V
50HZ
1.1
0.75
1L
500ml
30-400
60-800
≤60db
JHMB-8L
220V
50HZ
1.5
1.5
2L
2L
30-280
60-560
≤60db
JHMB-12L
380V
50HZ
1.5
2.2
3L
3L
30-260
60-520
≤60db
JHMB-16L
380V
50HZ
3
4
4L
4L
30-230
60-460
≤60db
JHMB-20L
380V
50HZ
3
4
5L
5L
30-230
60-460
≤60db
JHMB-40L
380V
50HZ
3
4
10L
10L
30-180
60-360
≤90db
JHMB-60L
380V
50HZ
4
5.5
15L
15L
30-170
60-340
≤90db
JHMB-80L
380V
50HZ
7.5
7.5
20L
20L
30-160
60-320
≤90db
JHMB-100L
380V
50HZ
11
11
25L
25L
30-160
60-320
≤90db
*Mill jars and Mill balls:
Our factory can provide 304 stainless steel jar, Tungsten carbide jar(YG8), ceramic jar / corundum jar/ alumina jar, zirconia jar, agate jar. nylon jar, PU jar, PTFE jar. We can also provide the ball material of stainless steel, ceramic, corundum, alumina, zirconia, agate, tungsten carbide.
1) *Material of ball mill jar:
2) *Special ball mill jar for vacuum/inert gases protection:
3) *Material of grinding ball:
*Examples of milling tasks:
*Installed picture of each material ball mill jar :
*Picture in kind:
The planetary ball mill will be packaged by Wooden box, also can be packaged according to your requirement.
planetary ball mill
Zhengzhou JinHe Machinery Manufacture Co., Ltd. is a professional manufacturer for mixing machine. We are an ambitious company with personality and strong ability in R&D. The double movement mixing principle that we proposed has greatly improved efficiency and save more energy. At present 3 series mixing machines that we have created all have independent intellectual property rights and national patent rights. Our innovative mixing principle is considered at the forefront of mixing technology!